Bitcoin loses 40,000 in crypto crash
Selling in the crypto market with weak sentiment
Investors lost 73 73 billion
Etherium broke 14 percent weekly
The last several days have seen a decline in other cryptocurrencies, including Bitcoin, as institutional investors are withdrawing their investments in the cryptocurrency market.
Bitcoin, the top cryptocurrency, lost હજાર 40,000 to 80 38,802 due to weak investor sentiment. Bitcoin is down 14 percent in the current calendar year. In addition, the global cryptocurrency market cap fell 5 percent to 9 1.98 trillion as other cryptocurrencies fell by 10 to 20 percent.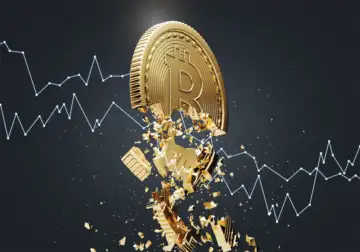 Etherium fell 18 percent
Ethereum cryptocurrency, currently popular for investment, rose 400 percent last year. Which is down 18 per cent in just 21 days of the current calendar year. Currently around 6 2861. Ethereum traded 60 percent higher last year than Bitcoin.
Shiba INU broke 21 percent
Shiba INU Coin, which returned 1,000 times last year, has lost 21 per cent in seven days. It is currently trading at 0.000026, down 7.89 per cent from yesterday. In addition, cryptocurrencies including XRP, Lightcoin and Polygon have seen an average decline of 3 to 10 per cent.
What a reduction in crypto
Crypto price ($) reduction (%)
Bitcoin 38898 7.33
Etherium 2861 8.79
BNB 426 10.11
Dozcoin 0.15 7.49
Solana 126 8.68
Cardano 1.23 9.92
Polcadot 22.30 9.70
Crypto Bill: Wait and wait
The crypto industry is facing regulatory challenges around the world, including in India. Investors have adopted a wait-and-see policy amid reports that the central government will introduce a crypto bill in the next budget.
Why the gap in the crypto market?
Russia bans bitcoin mining and trading

Decisions on crypto bills and regulations in the upcoming budget in the country

Strict attitude by the US Securities and Exchange Commission (SEC)

Profit booking by institutional investors

Central banks, including the Fed, are expected to raise interest rates

The investment was withdrawn for five consecutive weeks
Investors, including institutional crypto investors, have been withdrawing their investments for five consecutive weeks due to the uncertainties of the crypto market as well as the need to book profits and buy at lower prices. A total of 73 73 million has been withdrawn for the week ended January 14.
The volume of stable coins increased against Bitcoin
Decentralized Finance (DeFi) 24-hour total trading volume rose 12.63 percent to 3 8.38 billion. Stable coins, which account for 76.45 per cent, have a volume of 50 50.72 billion. Bitcoin has a 40.42% share of the crypto market.
(Disclaimer: The views/suggestions/advices expressed here in this article is solely by investment experts. www.Tradtips.com suggests its readers to consult with their investment advisers before making any financial decision.)